I've talked here before about Hal and Melanie and their book Raising Real Men and how it has made such an impact on how we parent, the way they use their words to point us to the biblical parenting of our sons has been such a blessing to us.  So, when they offered up their new eBook Christ Centered Christmas to those willing to write a review I jumped at the chance.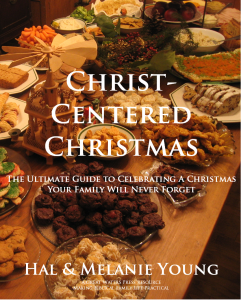 In our family I feel as though we are still working our way through making some Christmas traditions.  We have a few but not as many as I would like.  The Young's book is chock full of their family traditions they were even kind enough to include their family recipes, decorating ideas and carols.  There is a recipe for tea that I will be making this year, it sounds delightfully yummy.  The common theme though with their traditions  is, it's all about Him, which is exactly what I want for our traditions so I'll definitely be taking some of their tips.
"We decided right then, long before we had children, that each year we would choose an ornament that would remind us of God's doings in our family that year."
Yes!  I love that, just a simple way of putting down those markers to remind us of what God has done and then being able to remind our children of them each year.  That is truly priceless.
We've made a push in our family the last couple of years to slow down at Christmas and focus our time and energy on things of Christ instead of all of the other stuff that is associated with Christmas and we're making some progress.  If that is your desire for Christmas I would highly recommend Christ-Centered Christmas by Hal and Melanie Young.
Thank you to Hal and Melanie at Raising Real Men for, once again,  sharing your knowledge and know-how with us!